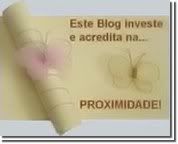 I've been awarded by Missie, Who is such an amazing designer, and sweetheart. Thank you Missie it is more than an honor and privilege to accept this award from you.



This award is called the "ProximidadeAward" or "Friendship Around TheWorld Award". Originally this award was written in spanish, but it translates to highlight blogs that are pleasing or special in some way, and also to extend the hand of friendship around the world.
And now I have to pass this award on to 8 blog
s.
Here we go!! :)--

Angie- an amazing woman and great friend, I love ya darlin' thank you for all you do for me. I love you very much hon, thank you for being there for me.

Paula- Beautiful designs, great friend, absolutely beautiful person,inside and out. Thank you so much for all you have done for me, it means so much you have no idea.

Amber- You amaze me daily with your talent, I love and adore you very much
you have a beautiful, giving and loving heart and I'm glad to call you my friend.

CP- The amazing patience with me in dealing with my health issues, for being sweet and kind and caring. I have been so sick lately :( and I miss the Angels and hope to be back asap. *hugs and love* to you sweetie.


Yarrow- Can NEVER forget Yarrow :) Yarrow is a woman that has been a HUGE inspiration in my tagging and in alot of the things that I do. I miss ya hon.

Tizzy - To an amazing Designer and friend, I know I haven't been around much, but I am slowly getting back into the swing of things, And I hope to see you all again very soon!

Lori- I don't know you very well, but I LOVE your doodles, they keep me busy! And hopefully, will get to know you better in time. :)


Thats it for my awards!! Enjoy Ladies and have fun with your posting!


all of my love always,
Stephanie